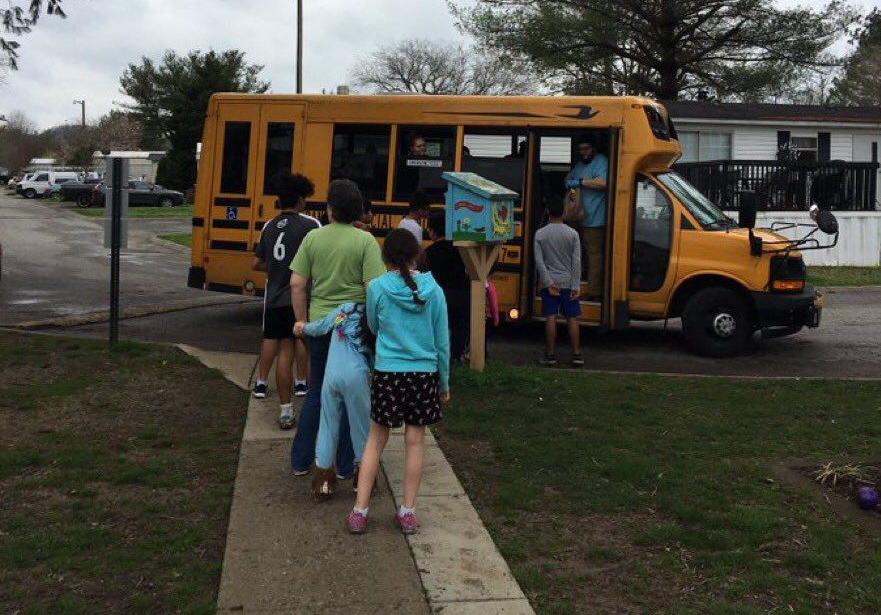 Amid the current pandemic, countless heroes have stepped up, going beyond their day-to-day responsibilities to care for others. In the Franklin Special School District, Robbin Cross and others in the child nutrition department have done just that.
Full Service Insurance, the Williamson Herald and Grange Insurance this month present the Community Hero Award to Cross, the district's child nutrition supervisor, and her entire department for the tens of thousands of meals they have provided to families while schools have been shut down because of COVID-19.
"FSSD serves many of our city's students daily, and it was so encouraging to see Robbin Cross and the FSSD nutrition team take the lead on feeding these amazing students throughout the COVID-19 crisis," said Patrick Baggett, a vice president at Full Service. "When a crisis happens in our community, the actions of people like Robbin confirm what is so special about our community and why we, at Full Service Insurance/USI, feel she is extremely deserving of the Community Hero Award."
Since early March, the child nutrition department has been handing out meals to families through bus delivery and drive-thru sites to compensate for the lost cafeteria meals during school closures. Cross said that they started by serving just under 200 people per day via smaller bus routes, but the number soon grew. By the fourth week of March, the district had 10 delivery sites and two drive-thrus every weekday.
In the early days of school closures before spring break, Cross began applying for emergency feeding with the U.S. Department of Agriculture, which led to the districts' designation as a noncongregant feeding site, which means that the schools can now give food to families without having to be there as they eat it, as opposed to meals provided in a cafeteria or even on the district's routes for the summer feed program.
"During the summer, we have to watch the children eat the meal … because they're not allowed to take food home with them," Cross said. "Now, the children can come pick up the food or the parents can come pick up the food from the bus or the drive-thru, and we just hand it to them to-go."
This has led to faster delivery, allowing the district to serve more people. The staff does not even require families to have students enrolled in FSSD to pick up a meal as long as they have a child under 18.
After two weeks of everyday service, the district provided 29,248 meals, according to Susannah Gentry, the FSSD communications director. Gentry credits Cross' determination to seek USDA approval and the staff's willingness to put their hands to work.
"This is all with the support of each and every FSSD child nutrition employee, risking their health and their family's health to alleviate food insecurity for our community. Employees wake up early to arrive at 6 a.m. daily to prepare meals," Gentry said. "They are working double-time to meet the growing needs. They are tired but refuse to rest. We are so fortunate to have such a diligent, hard-working team to support FSSD and the greater community."
Cross said that in the beginning, teachers, outside volunteers and staff from other departments helped distribute food on the bus routes, but now, because of Gov. Bill Lee's stay-at-home order, the nutrition staff and bus drivers have taken all the work on themselves.
"We just felt like we didn't need to be using volunteers to follow the spirit of what his order was," she said, still recognizing so many other staff members for enabling this food distribution: "It's taken a lot of coordination with other departments here at Franklin Special. It's not just the child nutrition department that has made this possible."
Lorie Morgan, the cafeteria manager at Poplar Grove Middle School, said about 14 staff members are working every day in different kitchens to prepare food for these families. This poses an increased challenge not only because of the large number of meals produced by fewer hands, but because the menu has changed drastically to include more portable items, and the bags must be packed carefully so sandwiches and fruit don't get squished.
However, Morgan said the job is still just as rewarding.
"It's still a delight," she said. "I mean, the parents are so grateful to have the food. They all say thank you, and the children just jump for joy when they see you coming."
Now, to limit exposure, the district has limited its delivery and drive-thru services to Mondays and Thursdays only, providing heftier food packages to last the days in between.
FSSD has also called for families to help those who have struggled to pay their student lunch fees for the school year, which represents a negative balance of over $8,000 districtwide, allowing those families to start fresh in the fall. Donations can be made to offset this negative balance at franklinssd.revtrak.net/cnp-donation-gr.
Cross said that when life returns to some kind of normal and schools open their doors again, she hopes that this experience will have brought a new sense of pride to the child nutrition department.
"I'm hoping that the child nutrition staff will realize the value that they give to the community and give to our students and families every day," she said. "That's something that I hope stays with us."