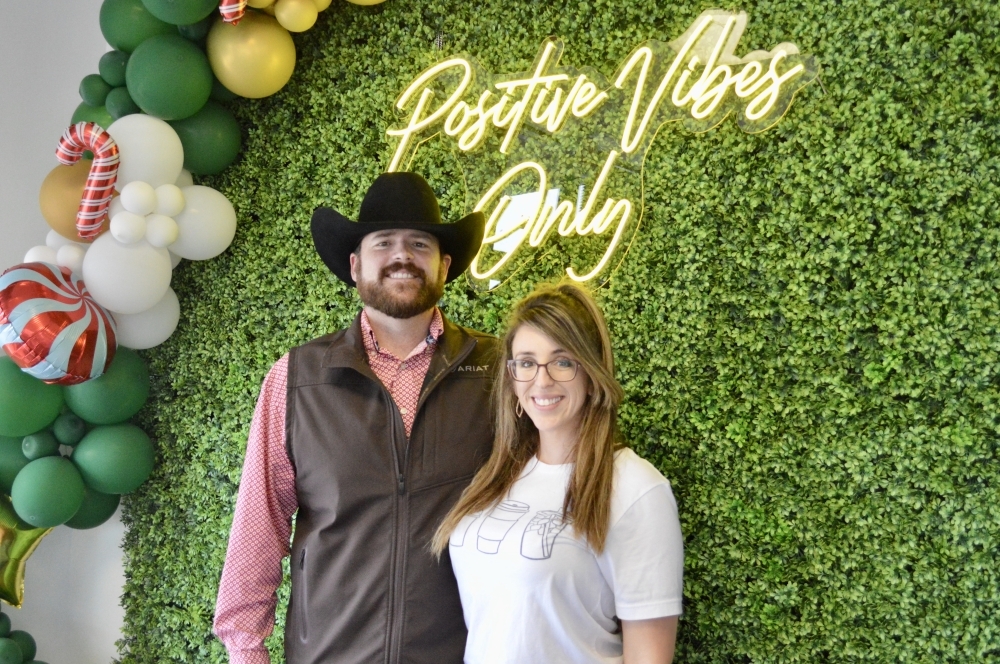 Owners Chris and Ronnie Swingler opened Leander Nutrition in 2018. (Taylor Girtman/Community Impact Newspaper)
Leander Nutrition owners Ronnie and Chris Swingler pride themselves as the "Cheers" of nutritional drinks. They learn customers by name and by order—and even by their car as they drive up to Leander Nutrition.
"They're not customers; they're family," Ronnie said. "They're part of the Leander Nutrition family."
The Swinglers opened Leander Nutrition in February 2018. Ronnie said after leaving a job in the financial sector and becoming a mom, she wanted to start a business where people can gather, learn about nutrition and have healthy options.
The shop sells a variety of smoothies, iced coffees, frappes and energy teas. Each drink can be customized to what each customer's health goals are, they said. Leander Nutrition also sells waffles, muffins and cake pops.
After a nearly two-year period of ups and downs for small businesses, Leander Nutrition's family of customers keeps the Swinglers loving what they do. Customers have invited the Swinglers to weddings and other events after getting to know them at Leander Nutrition, which would not happen at jobs where you are behind a desk, they said.
"We're so deep with our community that our 'downs' haven't been too bad," Ronnie said. "They've got our back."To return the support, the shop held a Blue Santa toy drive and hosts spirit days for local schools.
"Our community really supported us, and that's why we love giving back," Chris said.
The owners and "mixologists" have also experimented with flavors to create new drinks and seasonal flavors.
Chris said he uses his love of cooking to build new drink flavor combinations. One called The Gladiator includes chocolate, vanilla and coffee flavors. Another called Green Goddess includes mango, pineapple, spinach and matcha.
"I like informing about nutrition on a personal level," Chris said.
The shop on Hero Way West aims to be a comfortable place for people and groups to meet and spend time. Customers can use Wi-Fi and sit in comfortable seating with a kids section while enjoying their drinks, the Swinglers said.
Orders can also be called or texted in so that drinks are ready for pickup in the busy mornings and during quick lunch breaks.
"We're like fast food for healthy people," Ronnie said.
Their goal is to educate people on "true health," Chris said, and he often tells new customers to try their drinks three times and then see how they feel.
"I've never had anyone say 'This didn't work' or 'I don't feel good,'" he said. "They always come back saying, 'I feel amazing,' and that's the point, right?"
---
Try this:
With dozens of flavors and new seasonal flavors added, there is a variety of drinks for customers to pick from. Here are some of the top flavors that owner Ronnie Swingler recommends ordering.
Banana nut bread shake
Cinnamon Toast Crunch Shake
Coffee Lovers Delight Shake
Texas Sunset Tea
Caramel macchiato iced coffee
Leander Nutrition
11880 Hero Way W., Ste. 104, Leander
512-763-9444
www.facebook.com/leandernutrition
Hours: Mon.-Fri. 6:30 a.m.-6 p.m., Sat. 8 a.m.-2 p.m., closed Sun.